Growing up in southern Ontario, I was unaware of how cold it can actually get in northern Ontario. My first winter trip into Blue Fox was in 2001, Pete Roberts was staying up for the whole winter and I met him on the 546 at the Little White River. I showed up with hiking boots, a rain jacket/rain pants, and a sweater (I did have warm socks, long underwear, and a hat and gloves). After shaking his head at my outfit, we hopped on the snowmobiles and drove into camp. I was fortunate that the snowmobile had heated grips and thumbs, and that the exhaust managed to keep my feet from freezing. Nevertheless, I was in rough shape by the time I got into camp. That week ranged from -30C to 0C, with snow, rain, and freezing rain, and I froze through all of it. I promised myself I would never come unprepared for Canadian weather again.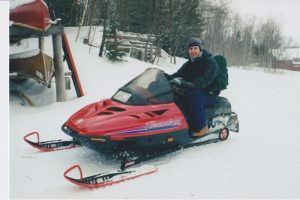 Pictured above, what not to wear.
Below are a few tips for what to bring and wear during a winter trip to Blue Fox that should keep you comfortable and safe:
General ideas behind keeping warm:
Layering is an important principle, but piling everything you own onto yourself will do more harm than good. Layering provides an air-space that traps warm air. Too many clothes, or clothes that are too tight, eliminate that air space and make it harder to stay warm. Another helpful feature of layering is the ability to add or remove layers depending on how cold/hot you are.
Don't sweat it (literally). If you are dressed too warm for an activity, the accumulated sweat will make your clothes and skin wet, making it difficult to stay warm. Try not to overheat, and use the layering system to add or remove clothes to keep you dry and comfortable.
Wool or synthetic clothes are best. Since it's impossible to not sweat no matter how much you layer/de-layer, the material next to your skin needs to be able to wick away the water and also dry quickly. Cotton is terrible for this (which is why you don't see cotton or denim bathing suits), once it gets wet it stays wet and will make you cold. Wool, merino wool, and synthetic materials (like polyester and fleece) are much better and will help to keep you dryer and warmer. Merino wool is my favourite, but the most expensive. Wool is less expensive, but can be itchy. Synthetic materials are comfortable and can be inexpensive, but smell terrible after wearing for longer than one day.
Move a little. A little bit of movement (walking, jumping up and down) will help the blood to flow and keep you warm.
Keep hydrated and also go to the bathroom. Keeping hydrated may not help you to stay warm, but it's important to drink water. It's harder to tell if you're thirsty while outside in the cold, drink lots of water. After staying hydrated, make sure you get rid of it often. Your body uses energy to keep the urine inside of you warm, energy that could be used to keep fingers and toes warm. Drink often, but also urinate often.
It's harder to tell that you're hungry if you're fighting off the cold. Staying warm takes lots of energy, make sure to refuel your body.
Hot drinks will help to keep you warm. Bring along a thermos of coffee, tea, hot chocolate, apple cider, or other hot drink. One of my favourites is mint tea and Baily's Irish Cream.
Drinking alcohol makes you feel warm, but it actually lowers your core temperature:
Alcohol increases the volume of blood brought to the surface of your body (your skin), decreasing the flow to your core. This counteracts your body's natural reaction which is to constrict blood vessels in your skin and causing more warm blood to stay in your core.
The extra blood at the surface can also cause a person to sweat. Sweating in cold weather will cool you down very quickly
Finally, alcohol reduces the body's ability to involuntarily shiver
The main takeaway on alcohol in cold weather is to enjoy it in moderation, and watch out for possible effects.
Heat packs. For extreme cold or for going outside with kids, bring along enough disposable heating packs for hands and feet. These are worth their weight in gold if your hands or feet get cold, and really help to warm you up.
Keep an eye on each other for white spots on exposed skin. If any white spots are noticed, get indoors as soon as possible and use warm water and a cloth on the white spots.
Shivering is your body's way of moving to keep warm. If you're shivering, get someplace warm.
Be extra cautious when outside in extreme cold with kids. They aren't able to read their bodies signals as well as adults and when they're having fun they don't notice the cold.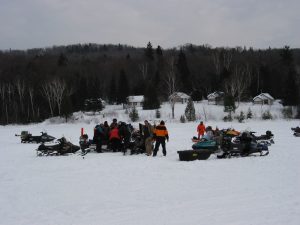 A Blue Fox ice-fishing party
Boots
The number one priority. If your feet get cold and wet you will never be comfortable. There are lots of options, but I would recommend a high boot, with removable liners, and a rating of at least -40C. The high boot is important when dealing with slush on the ice. Make sure to remove the liner each night and dry it inside.
Some other considerations:
The really warm boots like the Sorel, Kamik, and Baffin are great but difficult to walk in
Each of those manufacturers have boots that may not be quite as warm, but are easier for walking and snowshoeing. For a boot that can do it all, I would recommend one like this
Most manufacturers have boots with insulation but not a removable liner. I wouldn't recommend this as your only boot (they aren't warm enough and if they get wet they'll never dry), but a set of these along with a really warm boot would be a great system
I've never tried the neoprene boots but I've been told they are very warm. The only downside is that once they get damp it's difficult to get them dry.
Tip: one of the ways that cold moves into your feet is through the rubber soles Even though the liner is insulated, it's still in contact with the cold rubber sole. One trick is to use a thin Styrofoam plates (that meat in the grocery store comes in) to cut out an insert for your boots. Place this insert in between your liner and the main boot to create a thermal-break. This thermal-break will help to slow the cold from the snow/ice/earth travelling through the rubber to your foot.
Hat
This is an easy one. As long as it's warm, comfortable, and covers your ears (including your earlobes), then it works.
Gloves/mittens
The short answer for this section is to have a pair of warm gloves AND mittens, both with removeable liners. Drying your gloves or mittens is important, it's tough to put on a pair of cold, damp gloves before heading outside in the morning.
I've tried for a long time to find the perfect glove or mitten and I don't think it exists. No matter what, your hands will get a bit damp and cold after a while. My new system is to bring a pair of warm gloves and a pair of warm mittens (Mittens are generally warmer than gloves but not as dexterous), both with removable liners. If your hands get damp or cold, swap out to the fresh pair and make sure to remove both liners and dry them inside at the end of the day.
Socks
As with your clothes, avoid cotton socks. Wear warm synthetic or wool socks, with a bit of a loose fit (tight socks will prevent air and blood circulation).
Snowpants
Last year was the first year that I used insulated snowpants (with an elastic cuff that prevents snow from going in your boot) and it made a huge difference…..highly recommended.
Jacket
A whole book could be written on what type of jacket you should wear. I prefer a down jacket along with a 3-layer stormshell with a hood, but there are many good systems out there. Wear whatever is warm and comfortable, but I think a jacket with a hood is mandatory.
Not recommended without a hot sauna to run back into
Cold weather system for low-activity outings
For low-activity days like ice-fishing or snowmobiling, I recommend:
a merino wool base layer (long underwear, and a hoodie with thumbholes that help to protect your wrist)
insulated snow pants
a wool or fleece sweater
an insulated jacket with a hood
warm socks
winter boots
hat
pair of gloves and a pair of mittens
For high-activity days such as snowshoeing , I recommend:
a merino wool base layer (long underwear, and a hoodie with thumbholes that help to protect your wrist)
a wool or fleece sweater
waterproof-breathable shell pants
a hooded shell
warm socks
hat
pair of gloves and a pair of mittens
This should keep you warm while exercising. It's a good idea to bring along your insulated jacket and snowpants with you to put on once you've stopped exercising.
With these tips, you'll be all set for a winter day outside at Blue Fox and anywhere in northern Ontario.
Good luck, and remember that "There is no bad weather, just bad equipment".
Blue Fox