Blue Fox Camp is excited to let everyone know that Angelo Viola and Pete Bowman, producers and co-hosts of Fish'n Canada, are scheduled to visit the Blue Lake System in May 2016 to test their wares on our infamous trout. With support from Algoma Country, Angelo and Pete are going to spend a week fishing for brook, lake, and rainbow trout on lakes throughout the Blue Lake System using a variety of techniques.
We've all watched Angelo and Pete for years every Saturday morning, fishing beautiful spots and catching monster fish. We've listened to Angelo's show on 590 The Fan, so needless to say, the staff and owners of Blue Fox Camp are honoured to have them stay with us and fish our lake.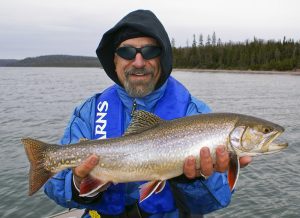 The Blue Lake System is unique in the sense that it contains a system of 5 lakes that all contain a healthy and naturally reproducing rainbow, lake and brook trout populations. The combination of these three naturally reproducing species is found in less than 1% of the lakes in Canada which makes it a trout enthusiast's paradise. Blue Fox Camp also works with the local Ministry of Natural Resources office to maintain a carefully monitored stocking program which produces dozens of remote but accessible trophy brook trout back lakes where many fish over 7 lbs are caught. The main lake is abundant with lake, rainbow, and brook trout. If you're a guest in the spring and the timing is right, you can watch the rainbow trout on their annual spawning run in the creek right through the middle of camp. It's a designated fish sanctuary so only cameras are allowed, no fishing rods.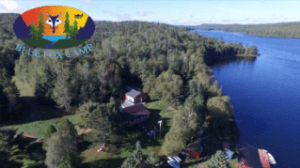 We're hoping that Fish'n Canada gets nothing but blue skies and big brook trout peeling drag off their reels but if that doesn't work, we know the food, accommodations and the Blue Fox staff will make their day. Blue Fox Camp would also like to throw down the challenge to the guys to see if they can catch the trifecta over the course of their stay with us. If they can catch all three species in a day, Blue Fox Camp will donate to their charity of choice. We know these guys can fish, but we're going to test their skills.
For more information on Blue Fox Camp and Outpost, or if you're interested in bear or moose hunting, please visit our website at www.bluefoxcamp.com. Blue Fox Camp offers both housekeeping and American plans to fisherman, hunters, families, corporate groups and parties up to 20 people that are looking for a unique Northern Ontario fly-in or ATV experience.